Ted Wickes & Dominic Maunsell
They own the longest running art gallery in Sydney – Maunsell Wickes Gallery in Paddington – but it's Ted Wickes and Dominic Maunsell's colourful semi in Sydney that encloses their favourite space ­– their dining room. It's the room that has seen many a dinner party, amazing conversation and buckets of wine flow over the last two decades. I was invited into the vibrant dining room to find out why the duo is so besotted by the space.
Ted took some time to answer my questions.
What is your favourite room in your house?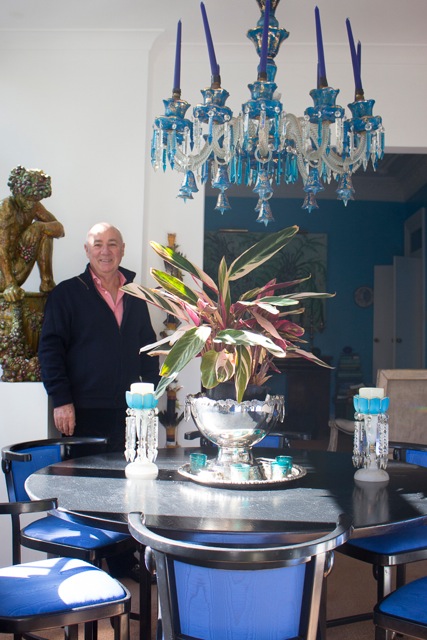 Our favourite room is our dining room. It is separate to our living room, but we still spend a lot of time in both rooms.
The house was built around 1910 and there was NO dining room. So, I decided I needed to build one. It was important to keep the structural integrity. I thought the best place to build a dining room would be at the back of the semi. There was a beautiful window treatment in the existing room, so I enlarged that room and added some sandstone steps so we could easily move into the garden from the dining room. I just love those steps.
Why is it your favourite room?
We entertain a lot and we both love food. We probably have a dinner party once a fortnight and we can snugly fit 10 people.
It's probably my favourite room simply because I designed it. I love the way the room leads into the garden – it's just lovely especially with the view of a wall of camellias.
How does your favourite room represent who you are?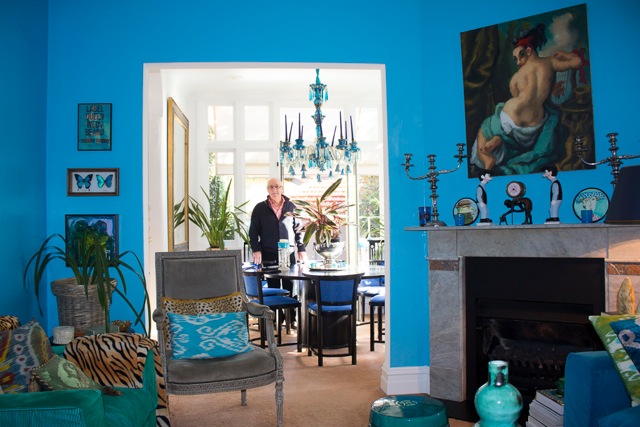 It represents our love of entertaining. It also has a lot of art works – including a sculpture of Bacchus by Melbourne artist William Eicholtz – which is very apt as I love red wine! There are loads of windows so there's plenty of light. I just love the chandelier – it brings out the blue from the living room (the colours we painted the house were specifically chosen by architect/interior designer George Freedman). The chandelier was made in Mysore, India, and we purchased it from Martyn Cook Antiques.
What do you like most about your favourite room?
Probably that it faces north. We get sunlight all year round and in winter the sun-filled room is just delightful.
If you could invite anyone into your favourite room, who would it be?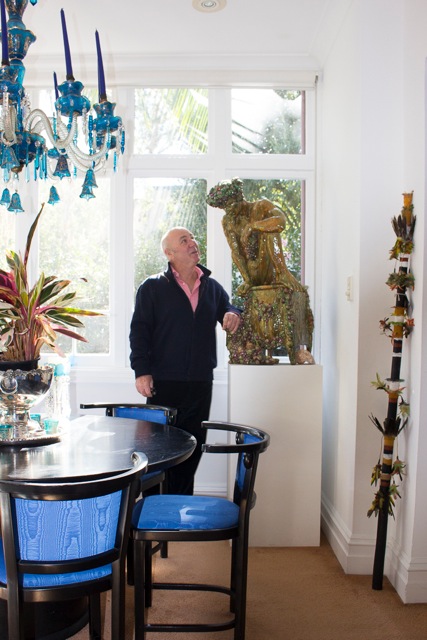 Our very dear friend (Australian composer) Peter Sculthorpe died late last year. We enjoyed many dinners together here over the last 15 years. Peter would always bring beautiful bottles of red wine for me! The last time he had dinner with us here we listened to a live broadcast of his one of his works being performed in Canberra. When it finished, the conductor dialled our phone number to talk to Peter. The whole audience heard him on the phone. It was a very special moment. So, I think I'd like to have Peter back here for a meal.
What would you change about your favourite room?
I'd like it to be larger. Thinking back now, I probably should have built it bigger.
What advice would you give on how to create the perfect space?
I think the most important thing is to live in a space before renovating. Many people buy terrace houses and don't live in it, employing an architect to gut it. I moved in and lived here for a while and could see what the house needed. Live in a space before renovating to get a feel for the home.
---