Mixed Tomato Panzanella Salad
This is an oldie but such a goodie. Panzanella is an Italian bread salad, where really ripe sweet tomatoes create some of the dressing that the crisp golden bread absorbs. Just don't leave it too long before serving otherwise you'll end up with really soggy bread.
½ (300g/10 ½ oz) sourdough loaf, crusts removed, torn into big pieces
6 sprigs marjoram or oregano, leaves removed
¼ cup (60ml) extra virgin olive oil, extra to drizzle
250g (8 ½ oz) truss cherry tomatoes
¼ cup (60ml) red wine vinegar
½ tsp caster sugar
½ garlic clove, peeled and finely chopped
1 tbsp baby capers
200g (7 oz) mixed cherry tomatoes, halved
4 (600g/1 lb 3 oz) tomatoes, cut into wedges
½ cup basil leaves
micro red vein sorrel, to serve (optional)
Preheat the oven to 200C (400F/Gas 6) fan forced. Place the bread and marjoram leaves on a baking tray, drizzle with 2 tbsps of oil and season with salt. Roast in the oven for 8-10 minutes, add the truss cherry tomatoes to the tray and roast for a further 10-12 minutes or until the bread is golden and the tomatoes have split. Remove from the oven and allow to cool.
Place the remaining oil in a large bowl, add the vinegar, sugar, garlic, capers and season with salt and pepper. Add the remaining tomatoes and set aside for 20 minutes or until the tomatoes have released some of their liquid.
Add the bread and marjoram to the bowl and toss to soak up some of the dressing.
Place on a serving platter with the roasted tomatoes and the basil and sorrel (if using). Drizzle with extra oil and serve immediately.
Serves 6.
Dairy Free Recipe
Vegan and Vegetarian Recipe
You can order the full e-book at the following link : Kirsten Jenkins "One Leaf at a Time"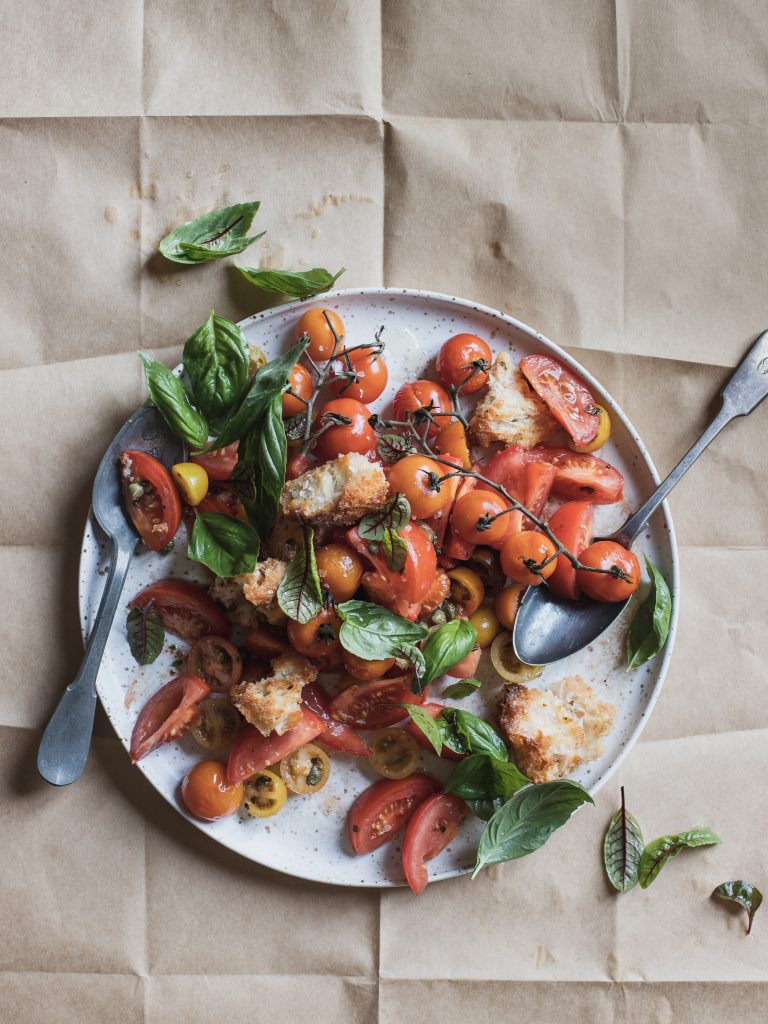 Image and Styling: Kirsten Jenkins
---