Maple Bacon & Celery Caesar Salad
This is honestly one of my favourite salads from Kirsten Jenkins' book 'One Leaf at a Time". For the non-anchovy lovers out there, you can emit them from the dressing or you could just tell yourself it's just a salty dressing???
2 eggs
8-12 long streaky bacon rashers
1 tbsp maple syrup
3 (170g/6 oz) thick slices sourdough bread, crusts removed, cut into 4cm squares
2 tbsps extra virgin olive oil
6 stalks (360g/12 ½ oz) celery, thinly sliced and tender leaves
¼ cup shaved parmesan
Anchovy dressing
2 tbsps whole egg mayonnaise
2 tsps Dijon mustard
2 tbsps white wine vinegar
3 anchovy fillets, finely chopped

Preheat the oven to 200C fan forced. To make the anchovy dressing, place all the ingredients in a bowl and whisk well until combined. To loosen the dressing, add 1-2 tablespoons of water. Set aside.
Cook the eggs in a saucepan of boiling water over high heat for 15 minutes. Run under cold water, peel and discard the shell. Roughly chop the eggs.
Lattice plat the bacon (optional) on a baking tray lined with non-stick baking paper and brush with the maple syrup. Lay another piece of baking paper on top of the bacon and place a tray on top to weigh down. Cook in the oven for 5 minutes. Combine the sourdough in a bowl with the oil and toss to coat. Add to the top tray in the oven and cook the bacon and croutons for a further 10-12 minutes or until the croutons are golden and the bacon is sticky and browned. Remove from the oven and set aside to cool.
Arrange the celery, bacon, croutons and egg on a serving platter. Top with the parmesan and dressing.
Serves 4-6.
Dairy Free Recipe
You can order the full e-book at the following link : Kirsten Jenkins "One Leaf at a Time"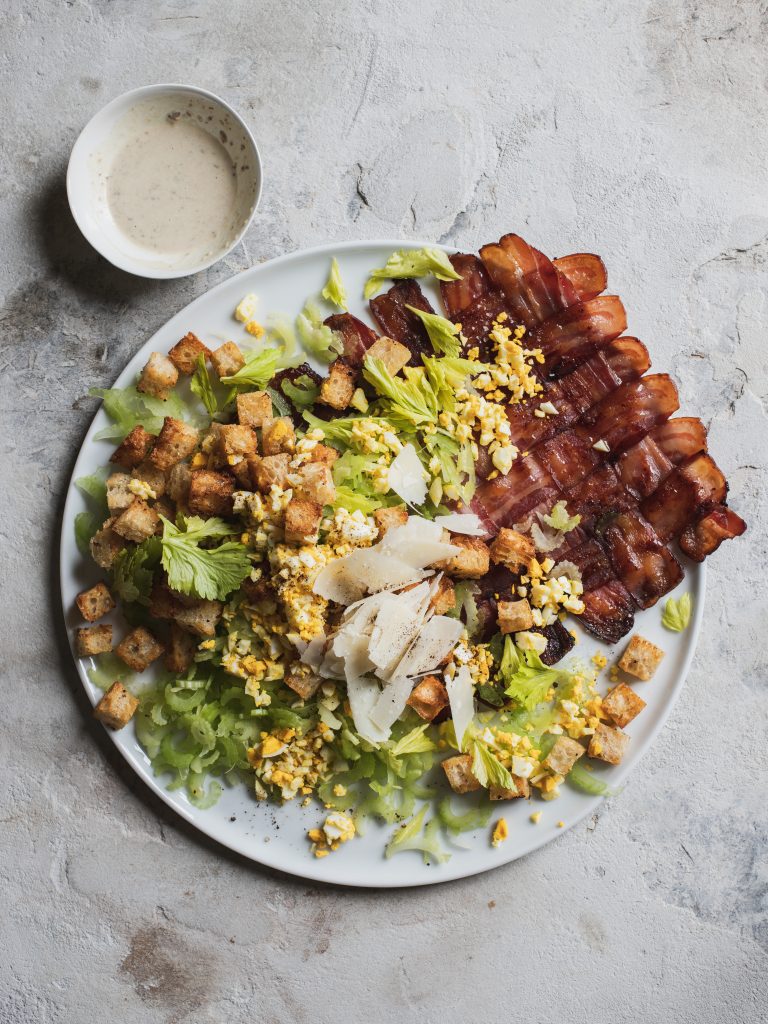 Image and Styling: Kirsten Jenkins
---