Middle Eastern Lamb Salad
Middle Eastern Lamb Salad
"This recipe is inspired by everyone's favourite food writer; Ottelenghi. When I first encountered the flavours of the middle east as a kid I wondered whether I might have been adopted from there, obviously that was ruled out with my incredible likeness to the rest of my family, but I have spent the rest of my eating life up to this point being pulled to those flavours especially when writing recipes. This is a great dish to put in the middle of the table and share with friends, using pita bread as your eating utensils."
3 garlic cloves, finely chopped
1 tsp smoked paprika
½ tsp chilli flakes
1 tsp ground cumin
1 tsp ground coriander
2 tsps Baharat spice
500g (1 lb 1 oz) lamb neck, finely chopped
¼ cup (60ml) extra-virgin olive oil, extra for drizzling
½ (130g/4 ½ oz) brown onion, thinly sliced
3 (200g/7 oz) silverbeet stems, trimmed, stems and leaves shredded
2 tbsps currants
440g (15 ½ oz) store bought hummus
2 tbsps lemon juice
1 cup flat leaf parsley leaves, chopped
½ cup mint leaves, chopped
½ cup (100g/3 ½ oz) tinned butter beans
2 (40g/1 oz) watermelon radishes, thinly sliced (optional)
Place the garlic, paprika, chilli flakes, cumin, coriander, Baharat and lamb in a bowl, season with salt and pepper and toss well to coat. Set aside.
Heat 1 tbsp of the oil in a large non-stick frying pan over high heat, cook the lamb, in batches, for 3 minutes or until just browned. Remove from the pan and set aside.
Add the remaining oil to the pan, reduce heat to medium-low, cook the onion and chopped silverbeet stems, stirring occasionally, for 16 minutes or until golden brown and softened.
Add the silverbeet leaves and currants, cook for a further 4 minutes or until all the liquid has cooked off. Return the lamb back to the pan and stir to combine, until warmed through.
Spread the hummus over a serving platter and top with the lamb mixture. Combine the lemon juice, parsley, mint and beans and sprinkle over the top. Drizzle with extra olive oil and top with radish if using. Serve with warm pita bread.
Serves 4-6.
Dairy Free Recipe
You can order the full e-book at the following link : Kirsten Jenkins "One Leaf at a Time"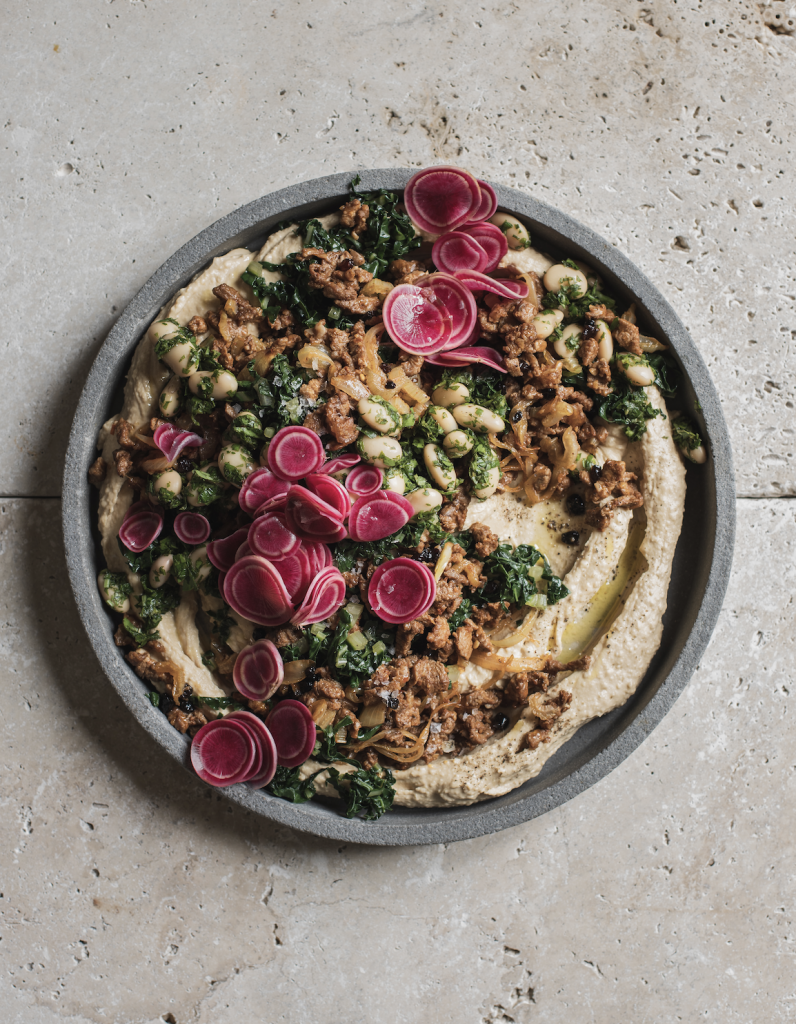 Image and Styling: Kirsten Jenkins
---