Pork hock, cannellini bean and sauerkraut soup
Pork hock, cannellini bean and sauerkraut soup
This is the perfect soup to share with family while snuggling up on the couch in this chilly weather!
1⁄4 cup (60ml) extra virgin olive oil
40g unsalted butter
3 garlic cloves, thinly sliced
1 brown onion, thinly sliced
2 stalks celery, finely chopped
1 carrot, trimmed and finely chopped
1⁄4 bunch flat-leaf parsley, finely chopped
1 tbsp each finely chopped rosemary & sage
2 bay leaves
1 (1.2kg) smoked ham hock
400g tin cherry tomatoes
1 parmesan rind
200g sauerkraut, drained
400g can cannellini beans, drained
Heat the oil and butter in a large saucepan over medium heat. Add the garlic, onion, celery, carrot and herbs and cook, stirring occasionally, for 5-6 minutes or until vegetables have softened. Add the ham hock, tomato, parmesan rind, sauerkraut and enough water to cover the hock and bring to the simmer. Reduce the heat to low-medium, cover partially with a lid and simmer for 2 ½ hours. Add the beans and cook for a further 30 minutes or until meat falls easily from the ham hock. Remove the ham hock, taking care of the heat and pick into small chunks. Discard skin and bones. Return the meat to the soup, season with pepper and stir to combine.
Serves 8.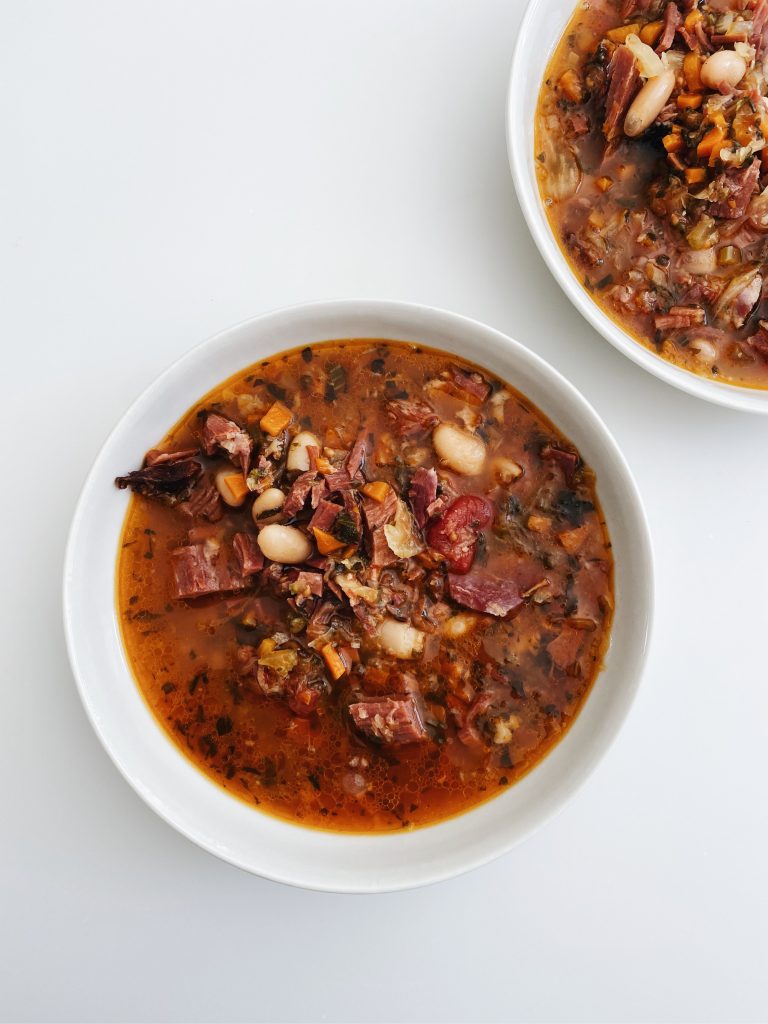 Image and Styling: Kirsten Jenkins
---